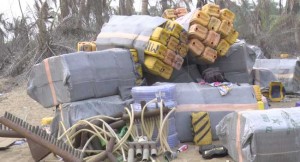 The Abia State Command of the Nigeria Security and Civil Defense Corp (NSCDC) has apprehended two suspects carrying 20, 000 litres of crude oil in a truck on their way from Port Harcourt to Imo State.
According to the State Commandant, Dr.Benito Eze, the command would not rest on its oars to ensure that the oil thieves are chased out of the state.
He hinted that officers of the command are working assiduously to handle the various tactics employ by the oil vandals that are crippling the economy and siphoning the money meant for the entire country through their dastard activities.
Although the two suspects, Banjo Ayo a mechanic by profession claimed ignorance, his counterpart Charles Nwachukwu said he was forced into the business by hunger.
Mr Eze said the truck was intercepted at Obehie in Ukwa West Local Government Area when a stop and search surveillance team of NSCDC along Aba=Port Harcourt expressway suspected foul play and directed the truck to move to NSCDC exhibit station at Isialangwa LGA for proper search.
After offloading the contents of the truck one after the other, the hidden tank containing stolen crude oil was found.