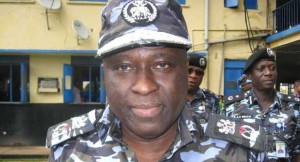 The outgoing Rivers State Commissioner Of Police (CP), Foluso Adebanjo has organised a town hall meeting to address the state of security in Rivers State, South eastern Nigeria.
Several security agencies, traditional rulers, community leaders, and other security stakeholders attended the meeting.
The meeting was organised by the outgoing CP to build better community relations and ensure that every one is in the same page in the fight against crime and criminality in the state.
He explained that the security situation in Rivers State would not be left in the hands of common criminals. The outgoing CP also said fighting crime requires the efforts of all citizens.
Mr Adebanjo, who just got promoted to a Deputy Inspector General, stated that the Police needs everyone to always provide the force with useful information in the fight against crime and criminality.
He gave a reminder of their slogan, "The Police is your friend".
After the town hall meeting, 20 security vehicles were commissioned, which the Rivers State government donated to the Police.
During the commissioning exercise, the Police brought out the bodies of suspected robbers who were killed in a gun battle.